Register Journal
Visitors Counter

Today
1164

Yesterday
1646

This week
8308

Last week
25587

This month
54971

Last month
46293

All days
5248951
International Journal of Emotional Education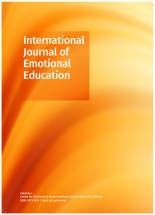 Article Publishing Frequency
7
CGIJ OAJI
0.601
Abbreviation
IJEE
Country
Malta
ISSN (print)
-
ISSN (online)
2073-7629
Editor in Chief
Prof. Carmel Cefai
ISI
—
All articles
Date added to OAJI
12 Apr 2017
Scopus
included
All issues
Free access
2009-2022
DOAJ
included
Full text language
English
Journal discipline
Journals
Multidisciplinary Sciences
Journal description
The International Journal of Emotional Education (IJEE) is a peer-reviewed, international, electronic journal providing space for high quality, empirically based papers on effective intervention and evaluation in the area of emotional education. It is published twice a year, in April and November respectively. Some of the areas related covered by the journal include amongst others emotional intelligence, social and emotional development, educational resilience, social and emotional health, social and emotional literacy, social and emotional competence, social, emotional and behaviour difficulties, health promotion in schools, mental health in children and young people, mental health in schools, behaviour management and behaviour modification, teaching and learning. The IJEE is an open-access journal and is free of charge for both readers and authors.
Journal is indexed by
PsycINFO, ERIC, ProQuest, Australian Education Index (AEI), Google Scholar.