Register Journal
Visitors Counter

Today
366

Yesterday
1796

This week
5864

Last week
25587

This month
52527

Last month
46293

All days
5246507
Journal of Management Research and Analysis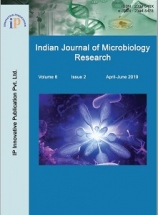 Article Publishing Frequency
11
CGIJ OAJI
0.201
Abbreviation
—
Country
India
ISSN (print)
2394-2762
ISSN (online)
2394-2770
Editor in Chief
Prof. (Dr.) K. J. Thankachan
ISI
—
All articles
Date added to OAJI
07 Apr 2015
Scopus
—
All issues
Free access
2014-2019
DOAJ
—
Full text language
English-US
Journal discipline
Journals
Journal description
Journal of Management Research and Analysis (JMRA) is a peer-reviewed journal that provides a specialized academic medium and important reference for the encouragement and dissemination of research and practice in management research. JMRA carries theoretical and empirical papers, case studies, research notes, executive experience sharing and review articles, and it aims at disseminating new knowledge in the field of different domain areas of management, information technology and related disciplines. It provides a forum for deliberations and exchange of knowledge among academics, industries, researchers, planners and the practitioners who are concerned with the management, financial institutions, public and private organizations, as well as voluntary organizations. Our editorial policy is that the journal serves the profession by publishing significant new scholarly research in management discipline areas that are of the highest quality.
Journal is indexed by
DOAJ, Cite Fectar.SIS, INFOBASE INDEX, OASPA.