Register Journal
Visitors Counter

Today
347

Yesterday
2013

This week
3775

Last week
9624

This month
37753

Last month
49411

All days
5522143
Journal of Entrepreneurship and Business Innovation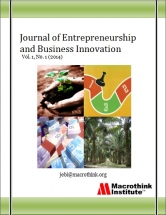 Article Publishing Frequency
7
CGIJ OAJI
0.101
Abbreviation
JEBI
Country
USA
ISSN (print)
2332-8851
ISSN (online)
-
Editor in Chief
Dr. Sorinel Capusneanu
ISI
—
All articles
Date added to OAJI
24 Nov 2014
Scopus
—
All issues
Free access
2014
DOAJ
—
Full text language
English
Journal discipline
Journals
Journal description
Journal of Entrepreneurship and Business Innovation (JEBI) (ISSN 2332-8851) provides a refereed and authoritative source of information and international forum in the field of Entrepreneurship Management and project financing. It offers an interface between entrepreneurship and innovation, as well as business corporate strategy and government economic policy. (JEBI) aims to establish channels of communication and to disseminate knowledge between policy makers, experts and professionals working in universities, government departments, research institutions, as well as industry and related business.
Journal is indexed by
Repec, Sherpa/Romeo, Infobaseindex etc.