Register Journal
Visitors Counter

Today
419

Yesterday
3391

This week
15814

Last week
13522

This month
36890

Last month
46293

All days
5230870
Journal of Language and Literature Education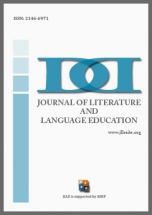 Article Publishing Frequency
8
CGIJ OAJI
0.101
Abbreviation
JLLE
Country
Turkey
ISSN (print)
2146-6971
ISSN (online)
-
Editor in Chief
Assoc. Prof. Dr. Adnan Karaduz
ISI
—
All articles
Date added to OAJI
22 Jul 2014
Scopus
—
All issues
Free access
2012-2013
DOAJ
—
Full text language
English and Turkish
Journal discipline
Journals
Journal description
JLLE is a scholarly international journal focusing on theory, research, and developments in language and literature education. Language education, literature education, second language education, linguistics, and bilingualism are the topics within the scope of the journal. JLLE welcomes original and not-published-elsewhere works. Manuscripts to be submitted must be in English or in Turkish and conform to the standards put forward in the Publication Manual of American Psychological Association. All submissions must be sent online. No hard copy submission papers will be accepted. Types of contributions are original theoretical works, research reports, literature reviews, software and book reviews. Because this is an electronic journal, the length of papers may vary. The length of your paper should be appropriate to the topic and focus. All submissions will be first reviewed and assessed by the Editorial Board in terms of subject matter, contents, suitable presentation and accordance with spelling rules. The manuscripts which are found suitable and acceptable by the mentioned boards will be submitted for scientific assessment to referees. Authors are responsible for opinions expressed in the articles.
Journal is indexed by
EBSCHO, Index Copernicus, DRJI, New Jour, etc.