O
pen
A
cademic
J
ournals
I
ndex
Register Journal
Visitors Counter

Today
1082

Yesterday
2297

This week
7825

Last week
14651

This month
44572

Last month
55525

All days
1905752
European Journal of Economic Studies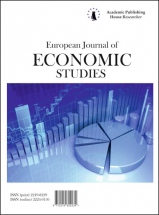 Article Publishing Frequency
8
CGIJ OAJI
0.201
Abbreviation
—
Country
Russian Federation
ISSN (print)
2304-9669
ISSN (online)
2305-6282
Editor in Chief
Vidishcheva Evgeniya
ISI
—
All articles
Date added to OAJI
28 Aug 2016
Scopus
—
All issues
Free access
2012-2017
DOAJ
—
Full text language
English, Russian
Journal discipline
Journals
Journal description
«European Journal of Economic Studies» – international bilingual scientific Journal. Periodical publishes conference proceedings, articles and short reports, concerning results of economy research in Russian and English languages. Article dateline is in English.
Journal is indexed by
CiteFactor - Directory of International Reseach Journals (Canada), CrossRef (USA), EBSCOhost Electronic Jornals Service (USA), Electronic scientific library (Russia), Global Impact Factor (Australia), Google scholar (USА), Index Copernicus (Poland), International Scientific Indexing (UAE), Journal Index (USA), ResearchBib (Japan), Sherpa Romeo (Spain), ULRICHSWEB™ GLOBAL SERIALS DIREСTORY (USA), Universal Impact Factor (Australia).