Register Journal
Visitors Counter

Today
1293

Yesterday
1281

This week
1293

Last week
8683

This month
33610

Last month
40908

All days
4937303
Prim@ Facie: Revista do Programa de Pós-Graduação em Ciências Jurídicas, UFPB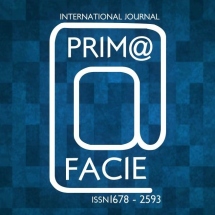 Article Publishing Frequency
0
CGIJ OAJI
0.150
Abbreviation
Prim@ Facie
Country
Brazil
ISSN (print)
-
ISSN (online)
1678-2593
Editor in Chief
Jailton Macena de Araújo
ISI
—
All articles
0
Date added to OAJI
15 Jul 2020
Scopus
—
All issues
0
Free access
—
DOAJ
included
Full text language
Português
Journal discipline
Journals
Journal description
A revista eletrônica Prim@ Facie, UFPB, online, é um periódico quadrimestral para a área de Direito com interfaces voltadas para as Ciências Jurídicas, Filosofia, História, Ciência Política e demais áreas afins. Visa propiciar debates atualizados sobre problemas do Brasil e do mundo contemporâneo com a participação de pesquisadores de diversas universidades nacionais e estrangeiras. A perspectiva jurídica estará em constante diálogo com a dimensão temporal e política da vida em sociedade. Não é possível compreender o direito em separado dos interesses sociais e econômicos. Cabe trazer à mesa de discussões a compreensão aprofundada de temas como: crescimento econômico, desenvolvimento, criminalidade, direitos humanos, meio ambiente, globalização e trabalho. As instituições públicas, mas igualmente as relações e os sujeitos privados constituem pólos de produção normativa e de tensões de interesses.
Journal is indexed by
IBICT Diadorim; CrossRef - Digital Object Identifier Registration Agency of the International DOI Foundation; REDIB Red Iberoamericana de Innovación y Conocimiento Científico; RCAAP Repositório Científico de Acesso Aberto de Portugal; Google Acadêmico; Dialnet; AcademicKeys; Elektronische Zeitschriftenbibliothek; Latindex; Publons; WorldCat; CiteFactor; Sumarios.org; Public Knoledge Project; ROAD; Southeast University Library; Calenda e Base.