Register Journal
Visitors Counter

Today
298

Yesterday
1302

This week
1600

Last week
9297

This month
20126

Last month
32763

All days
4882911
Advances in Human Biology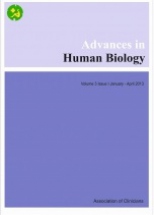 Article Publishing Frequency
11
CGIJ OAJI
0.201
Abbreviation
Adv Hum Biol
Country
India
ISSN (print)
2321-8568
ISSN (online)
2348-4691
Editor in Chief
Dr. Deepak Shishoo
ISI
—
All articles
Date added to OAJI
14 Jun 2014
Scopus
—
All issues
Free access
2012-2015
DOAJ
—
Full text language
English
Journal discipline
Journals
Journal description
Advances in Human Biology (AHB) is a peer reviewed and open-access journal providing up-to date information encompassing all the branches and fields of human science. It was started in the year 2011 with print media. Currently, it is undergoing the process of conversion from print to online media. AHB publishes Research articles, Review articles, Letters to editor, Brief communications, Case reports, Book reviews and Opinion articles related to basic, clinical and super specialization branches related to all medical and paramedical fraternity. It is published triannually and serves the need of scientific personals involved/interested in Basic Science (Biochemistry, Genetics, Anatomy, Physiology, Microbiology, Pathology, Pharmacology, Biotechnology), fields of medicine and dentistry as well as their superspecialization. Each issue covers topics, which are of broad readership interest to clinicians and academicians. Hence, AHB welcomes practical clinical reports, evidence-based original articles and fundamental reviews covering the broad range of interests within the field of medicine from anybody anywhere in the world.
Journal is indexed by
IIJS, Open J Gate, Academic keys, Google scholar, Microsoft academic search, Smashwords.