Register Journal
Visitors Counter

Today
695

Yesterday
1634

This week
6544

Last week
20053

This month
30898

Last month
49411

All days
5515288
Revista Eurolatinoamericana de Derecho Administrativo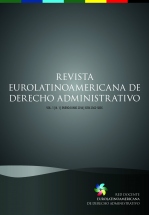 Article Publishing Frequency
0
CGIJ OAJI
0.150
Abbreviation
Rev. Eurolatin. Derecho Adm.
Country
Argentina
ISSN (print)
-
ISSN (online)
2362-583X
Editor in Chief
Daniel Wunder Hachem
ISI
—
All articles
0
Date added to OAJI
03 Jun 2020
Scopus
—
All issues
0
Free access
—
DOAJ
included
Full text language
Spanish, English, Portuguese, Italian, French
Journal discipline
Journals
Journal description
The Euro-Latin American Journal of Administrative Law is a biannual scientific journal promoted by the Euro-Latin American Administrative Law Network - REDOEDA (www.redoeda.com), composed by universities from Argentina, Brazil, Colombia, Costa Rica, France, Italy and Spain. Its mission is to publish excelling law articles on Administrative Law in European and Latin American spaces. Its editorial line follows the main areas developed by the Network, having as a central axis the study of Administrative Law, especially on issues related to the relationship of the Public Administration with globalization, social inclusion, fight against corruption, public procurement, fundamental rights and the phenomenon of the constitutionalization of Law. Its objective is to be read by law professors, scholars and students from different countries interested in Administrative Law.
Journal is indexed by
CrossRef; BASE - Bielefeld Academic Search Engine; Electronics Journals Library; Zeitschriften Datenbank; Red de Bibliotecas Virtuales de Ciencias Sociales de América Latina y Caribe - CLACSO; LA Referencia - Red de repositorios de acceso abierto a la ciencia; JournalTOCs; CiteFactor - Academic Scientific Journals; WorldCat; Biblioteca Digital - Ministerio de Justicia y Derechos Humanos (Argentina); Livre - Revistas de Livre Acesso.