Register Journal
Visitors Counter

Today
169

Yesterday
1796

This week
5667

Last week
25587

This month
52330

Last month
46293

All days
5246310
Journal of Fisheries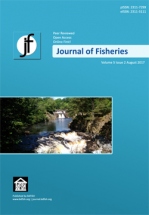 Article Publishing Frequency
9
CGIJ OAJI
0.251
Abbreviation
J Fish
Country
Bangladesh
ISSN (print)
2311-729X
ISSN (online)
2311-3111
Editor in Chief
Professor Dr. M. Nazrul Islam
ISI
—
All articles
Date added to OAJI
29 May 2014
Scopus
—
All issues
Free access
2013-2014
DOAJ
included
Full text language
English
Journal discipline
Journals
Journal description
Journal of Fisheries is a double blind peer reviewed open access journal published by BdFISH, a non-profit voluntary organization for sharing fisheries information worldwide. Editor-in-Chief: Professor Dr. M. Nazrul Islam; Journal type: Peer Reviewed, Open Access, Online First!; Article publishing cost: No cost; Journal issues: 3 issues in a year (Apr, Aug, and Dec)' Editorial contact:
Journal is indexed by
Google Scholar, Research Bible, Directory of Research Journal Indexing, Universal Impact Factor, Georgetown University Library, JournalTOCs, Chemical Abstract Service (CAS) Database and many more...