Register Journal
Visitors Counter

Today
914

Yesterday
1829

This week
6459

Last week
11178

This month
914

Last month
61164

All days
5361396
Journal of Chemistry and Chemical Engineering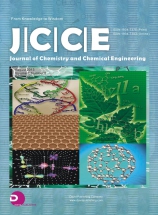 Article Publishing Frequency
0
CGIJ OAJI
0.150
Abbreviation
JCCE
Country
USA
ISSN (print)
1934-7375
ISSN (online)
-
Editor in Chief
Kunderi Mahaboob
ISI
—
All articles
0
Date added to OAJI
19 May 2014
Scopus
—
All issues
0
Free access
—
DOAJ
included
Full text language
English
Journal discipline
Journals
Journal description
Journal of Chemistry and Chemical Engineering (ISSN: 1934-7375), a monthly professional academic journal, particularly emphasizes new research results in realm of chemistry and chemical engineering, which is an international, scholarly, and peer-reviewed journal (print and online) published monthly by David Publishing Company, USA. It provides an international medium for the publication of theoretical and experimental studies and reviews related to Analytical Chemistry, Biochemistry, Green Chemistry, Inorganic Chemistry, Material Chemistry and Nanotechnology, Organic and Medicinal Chemistry, Physical and Theoretical Chemistry, Polymer Chemistry, Petroleum Chemistry and Catalysis, and Chemistry Engineering, and so on.
Journal is indexed by
Google Scholar, EBSCO, Hein Online Database, Cambridge Science Abstracts, Index Copernicus etc.