Register Journal
Visitors Counter

Today
624

Yesterday
937

This week
1561

Last week
10598

This month
2413

Last month
43724

All days
5530527
International Journal of knowledge, Innovation and Entrepreneurship,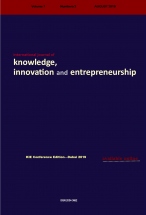 Article Publishing Frequency
0
CGIJ OAJI
0.000
Abbreviation
IJKIE
Country
United Kingdom
ISSN (print)
2054-3662
ISSN (online)
2054-3670
Editor in Chief
Professor James Ogunleye
ISI
—
All articles
0
Date added to OAJI
26 Dec 2019
Scopus
—
All issues
0
Free access
—
DOAJ
—
Full text language
English
Journal discipline
Journals
Multidisciplinary Sciences
Journal description
The International Journal of Knowledge, Innovation and Entrepreneurship is dedicated to the advancement of studies in knowledge, innovation and entrepreneurship and provides a forum for the publication of high quality papers in these coverage areas. The journal brings together scholarly work in knowledge-education, creativity, organisation, management and technology innovation, and entrepreneurship. It aims to promote interdisciplinary studies in business and technology and aims to become a leading journals in the area. The journal will publish original research and papers that discuss, analyse or evaluate policies, or those that disclose relevant gaps in existing research.
Journal is indexed by
Root Indexing, The ERIH PLUS lndex, Academic Journal Index