Register Journal
Visitors Counter

Today
1078

Yesterday
1792

This week
2870

Last week
11076

This month
8401

Last month
61164

All days
5368883
Journal of US-China Public Administration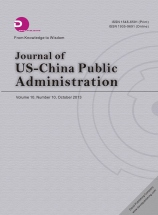 Article Publishing Frequency
0
CGIJ OAJI
0.000
Abbreviation
JUCPA
Country
USA
ISSN (print)
1548-6583
ISSN (online)
1935-9691
Editor in Chief
Kunderi Mahaboob
ISI
—
All articles
0
Date added to OAJI
19 May 2014
Scopus
—
All issues
0
Free access
—
DOAJ
—
Full text language
English
Journal discipline
Journals
Journal description
Journal of US-China Public Administration, a professional academic journal, commits itself to promoting the academic communication about analysis of developments in the organizational, administrative and policy sciences, covers all sorts of researches on social security, public management, land resource management, educational economy and management, social medicine and health service management, national political and economical affairs, social work, management theory and practice etc. and tries to provide a platform for experts and scholars worldwide to exchange their latest researches and findings.
Journal is indexed by
Google Scholar, EBSCO, Hein Online Database, Cambridge Science Abstracts, Index Copernicus etc.