Register Journal
Visitors Counter

Today
117

Yesterday
1415

This week
9863

Last week
9624

This month
117

Last month
43724

All days
5528231
Economics World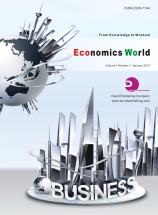 Article Publishing Frequency
0
CGIJ OAJI
0.000
ISSN (print)
2328-7144
ISSN (online)
-
Editor in Chief
Kunderi Mahaboob
ISI
—
All articles
0
Date added to OAJI
19 May 2014
Scopus
—
All issues
0
Free access
—
DOAJ
—
Full text language
English
Journal discipline
Journals
Journal description
Economics World is an international, scholarly and peer-reviewed journal (print and online) published monthly by David Publishing Company, USA, which was founded in 2001. It reports the latest and most creative research results in all the fields of Economics Research, Macroeconomics, Microeconomics, International Economics, Labor Economics, Econometrics, Development Economics, Industry Economic, Regional Economic, Social Economic, Political Economy, Environmental Economics, Tourism Economics, Finance, Banking, Insurance, other topics about economics, etc., in the forms of accounts, articles, notes and communications.
Journal is indexed by
Google Scholar, EBSCO, Hein Online Database, Cambridge Science Abstracts, Index Copernicus etc.