Register Journal
Visitors Counter

Today
955

Yesterday
1829

This week
6500

Last week
11178

This month
955

Last month
61164

All days
5361437
Advanced Information Systems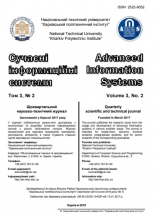 Article Publishing Frequency
0
CGIJ OAJI
0.000
Abbreviation
AIS
Country
Ukraine
ISSN (print)
2522-9052
ISSN (online)
-
Editor in Chief
SOKOL Yevgen Dr. Sc. Tech., Prof.
ISI
—
All articles
0
Date added to OAJI
06 Dec 2019
Scopus
—
All issues
0
Free access
—
DOAJ
—
Full text language
Ukraine, English
Journal discipline
Journals
Mathematics and Information Sciences
Journal description
The journal is intended for researchers, lecturers, doctoral students, postgraduate students, as well as senior students of the corresponding specialties. The journal publishes the results of research on the operation and development of modern information systems in various problem areas in the following areas: Problems of identification in information systems; Modeling of information systems; Optimization methods; Methods of adaptive management; Methods of synthesizing information systems; Research of information systems; Intelligent Information Systems; Methods of protecting information systems; Fundamental problems of operating information systems; Applied problems of operation of information systems.