Register Journal
Visitors Counter

Today
610

Yesterday
1307

This week
10361

Last week
11178

This month
4816

Last month
61164

All days
5365298
Journal of Life Sciences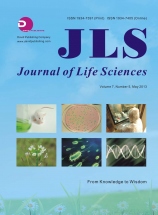 Article Publishing Frequency
0
CGIJ OAJI
0.000
Abbreviation
JLS
Country
USA
ISSN (print)
1548-6648
ISSN (online)
1934-7405
Editor in Chief
Kunderi Mahaboob
ISI
—
All articles
0
Date added to OAJI
14 May 2014
Scopus
—
All issues
0
Free access
—
DOAJ
—
Full text language
English
Journal discipline
Journals
Journal description
Journal of Life Sciences (ISSN1934-7391) is a peer-reviewed, International and professional academic journal that publishes original research articles as well as review articles in all areas of life sciences. JLS is striving to provide the best platform for researchers and scholars worldwide to exchange their latest findings and results.
Journal is indexed by
Google Scholar, EBSCO, Hein Online Database, Cambridge Science Abstracts, Index Copernicus etc.