Register Journal
Visitors Counter

Today
161

Yesterday
1438

This week
6183

Last week
11076

This month
11714

Last month
61164

All days
5372196
Journal of US-China Medical Science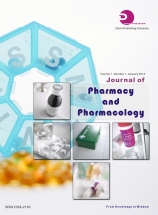 Article Publishing Frequency
0
CGIJ OAJI
0.000
Abbreviation
JUCMS
Country
USA
ISSN (print)
2328-2150
ISSN (online)
-
Editor in Chief
Kunderi Mahaboob
ISI
—
All articles
0
Date added to OAJI
14 May 2014
Scopus
—
All issues
0
Free access
—
DOAJ
—
Full text language
English
Journal discipline
Journals
Journal description
Journal of Pharmacy and Pharmacology is an international, scholarly peer-reviewed journal (print and online) published monthly by David Publishing Company, USA, since 2013. The journal publishes articles, reviews, etc., on any issues from the broadest range of Pharmacy and Pharmacology traditions and that cross disciplinary boundaries, through which it tries to provide the latest information on developments in Pharmacy and Pharmacology, and each issue is striving to bring you critical perspectives and cogent analyses. The journal is published in English.
Journal is indexed by
Google Scholar, EBSCO, Hein Online Database, Cambridge Science Abstracts, Index Copernicus etc.