Register Journal
Visitors Counter

Today
1292

Yesterday
1829

This week
6837

Last week
11178

This month
1292

Last month
61164

All days
5361774
Journal of Sports Science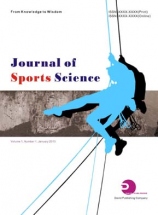 Article Publishing Frequency
0
CGIJ OAJI
0.000
Abbreviation
JSS
Country
USA
ISSN (print)
2332-7839
ISSN (online)
-
Editor in Chief
Kunderi Mahaboob
ISI
—
All articles
0
Date added to OAJI
14 May 2014
Scopus
—
All issues
0
Free access
—
DOAJ
—
Full text language
English
Journal discipline
Journals
Journal description
Journal of Sports Science is an international, scholarly and peer-reviewed journal (print and online) published monthly by David Publishing Company, USA, which was founded in 2001. It publishes articles of a high standard on various aspects of the sports sciences covering a number of disciplinary bases, including Sports Management; Sports Anatomy; Exercise Physiology; Exercise Biochemistry; Sports Trauma; Sports Training; Sports Psychology; Sports Practice and Analysis; Sports Humanities and Sociology; Physical Education Teaching; Sports Law; Sports Industry and Market Development; Sports News; Sports English; Sports Tourism, as well as ergonomics, kinanthropometry and other interdisciplinary perspectives.
Journal is indexed by
Google Scholar, EBSCO, Hein Online Database, Cambridge Science Abstracts, Index Copernicus etc.