Register Journal
Visitors Counter

Today
1154

Yesterday
1464

This week
3920

Last week
9297

This month
22446

Last month
32763

All days
4885231
SOCRATES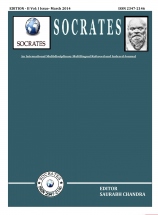 Article Publishing Frequency
1
CGIJ OAJI
0.101
Abbreviation
An International Multi-Lingual Multi-Disciplinary Refereed and Indexed Scholarly Journal
Country
India
ISSN (print)
2347-2146
ISSN (online)
2347-6869
Editor in Chief
Saurabh Chandra
ISI
—
All articles
Date added to OAJI
06 May 2014
Scopus
—
All issues
Free access
2013-2014
DOAJ
—
Full text language
English, Hindi, Persian
Journal discipline
Journals
Multidisciplinary Sciences
Journal description
SOCRATES is an international, multi-lingual, multi-disciplinary refereed and indexed scholarly journal produced as par of the Harvard Dataverse Network. This journal appears quarterly in English, Hindi, Persian in 22 disciplines.
Journal is indexed by
Socrates is highly Indexed- You will find it on every directory of International repute.