Register Journal
Visitors Counter

Today
1031

Yesterday
1560

This week
6802

Last week
8683

This month
39119

Last month
40908

All days
4942812
Pakistan Journal of History and Culture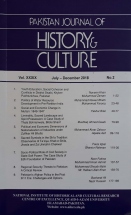 Article Publishing Frequency
0
CGIJ OAJI
0.000
Abbreviation
PJHC
Country
Pakistan
ISSN (print)
1012-7682
ISSN (online)
-
Editor in Chief
Dr. Sajid Mahmood Awan
ISI
—
All articles
0
Date added to OAJI
30 May 2019
Scopus
—
All issues
0
Free access
—
DOAJ
—
Full text language
English
Journal discipline
Journals
Journal description
The PJHC is a double blind peer reviewed biannual journal which is being published regularly for last 39 years. The PJHC is one of the high quality leading journals in Pakistan. It receives at least two peer reviews by the scholars of international repute for every article before publishing. The academic team is comprised of committed researchers. We also have an advisory board comprising of international scholars; having excellence in their specific areas. For further details you can visit our web: http://www.nihcr.edu.pk/Journals.html. The themes of journal include history, culture, politics, economy and Sufism; and is being contributed by national and international authors. We are further trying to enhance our outreach. Preliminary pages of all the previous issues and complete draft of the current issue and PDF articles of PJHC published since 1998 can be reached by any person on our aforementioned website.
Journal is indexed by
The PJHC has already being indexed in Periodica Islamica (Malaysia), Historical Abstracts (Singapore) and America: History and Life (USA).