Register Journal
Visitors Counter

Today
569

Yesterday
2117

This week
6505

Last week
12729

This month
2686

Last month
61234

All days
5150373
Revista de Osteoporosis y Metabolismo Mineral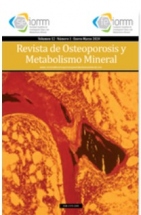 Article Publishing Frequency
0
CGIJ OAJI
0.650
Abbreviation
Rev Osteoporos Metab Miner
Country
Spain
ISSN (print)
1889-836X
ISSN (online)
2173-2345
Editor in Chief
Manuel Sosa-Henríquez
ISI
included
All articles
0
Date added to OAJI
06 May 2019
Scopus
included
All issues
0
Free access
—
DOAJ
included
Full text language
English and Spain
Journal discipline
Journals
Journal description
The Journal of Osteoporosis and Mineral Metabolism publishes articles in Spanish, which are translated into English, in its digital format, offered free of charge through its website. The journal does not charge any fees or charges for the publication of its articles or for its reading. Access to the Journal of Osteoporosis and Mineral Metabolism is completely free for all its articles, in both languages, with no grace period or embargo and without registration. It is a free-access journal, whose contents may be read, downloaded, copied, distributed, printed, searched or linked to the full texts of its articles without prior permission from the editor or author, in accordance with the BOAI definition (Budapest Open Access Initiative) of open access. Directed to: Researchers interested in pathologies related to bone and mineral metabolism.
Journal is indexed by
Google Scholar, SciELO, ERIHPLUS, Redalyc, IBECS, Embase, Open J-Gate, Free Medical Journals, Sociedad Americana de Investigación Científica (SIIC), Google Academic, Medes, ÄZ3, , WorldCat, Latindex, EBSCO, Medic Latina, Dialnet, Safetylit, Mosby´s, Emcare, Academic Keys, CRUE, Hinari, REDIB, Emerging Sources Citation Index, British Library and ROAD.