Register Journal
Visitors Counter

Today
255

Yesterday
1867

This week
9109

Last week
10492

This month
4062

Last month
45282

All days
5031885
JOURNAL OF SELCUK COMMUNICATION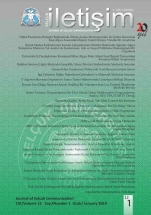 Article Publishing Frequency
0
CGIJ OAJI
0.000
Abbreviation
—
Country
Turkey
ISSN (print)
1302-2865
ISSN (online)
2148-2942
Editor in Chief
Prof.Dr. Bünyamin Ayhan
ISI
—
All articles
0
Date added to OAJI
23 Apr 2019
Scopus
—
All issues
0
Free access
—
DOAJ
—
Full text language
Turkish, English
Journal discipline
Journals
Journal description
Selcuk Iletisim is a "peer-reviewed" journal covers all scientific studies in communication sciences based on research, idea, practice, etc. Within this scope, our journal, which covers scientific papers related to communication sciences and other related areas aims at contributing in the communication field scientifically by providing studies in accordance with academic standards.
Journal is indexed by
TR-Dizin, Sobiad, SciLit, ASOS Index, OpenAire database.