Register Journal
Visitors Counter

Today
2698

Yesterday
1518

This week
14702

Last week
13522

This month
35778

Last month
46293

All days
5229758
International Journal of Contemporary Economics and Administrative Sciences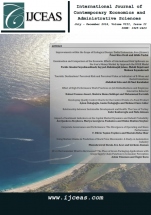 Article Publishing Frequency
0
CGIJ OAJI
0.250
Abbreviation
IJCEAS
Country
Canada
ISSN (print)
-
ISSN (online)
1925-4423
Editor in Chief
Cengiz Demir
ISI
included
All articles
0
Date added to OAJI
24 Jan 2019
Scopus
—
All issues
0
Free access
—
DOAJ
—
Full text language
English
Journal discipline
Journals
Journal description
International Journal of Contemporary Economics and Administrative Sciences (IJCEAS) is an online, biannual, peer-reviewed international research journal that addresses both applied and theoretical issues. The scope of the journal encompasses research articles, original research reports, reviews and scientific commentaries in the fields of economics and administrative sciences.
Journal is indexed by
Business Source Complete Database EBSCO Publishig, Google Academic Database (Google Scholar), OCLC WorldCat, A journal indexing ranking and abstracting service of IC Journals (Index Copernicus), Genamics Journal Seek categorized databes (JournalSeek), Subject Portal for Economics and Business Studies (ECONBIZ), Academic Journal Database.