Register Journal
Visitors Counter

Today
971

Yesterday
1055

This week
3093

Last week
7972

This month
39666

Last month
33584

All days
5601364
Sumy Historical and Archival Journal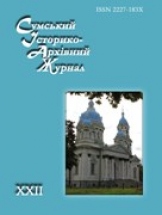 Article Publishing Frequency
13
CGIJ OAJI
0.201
Abbreviation
—
Country
Ukraine
ISSN (print)
2227-183X
ISSN (online)
2413-8762
Editor in Chief
Degtyarev Sergey I.
ISI
—
All articles
Date added to OAJI
24 Mar 2014
Scopus
—
All issues
Free access
2012-2016
DOAJ
—
Full text language
Ukrainian, Russian, English and other
Journal discipline
Journals
Historical Sciences and archaeology. Art History.
Journal description
Journal is devoted to the history, archeology, archeography and source studies.
Journal is indexed by
ERIH PLUS, E-Library, Index Copernicus (ICV 2014 - 43,80); MIAR (ICDS - 3,5), ResearchBib.