Register Journal
Visitors Counter

Today
560

Yesterday
1819

This week
10102

Last week
10718

This month
54543

Last month
49943

All days
5353861
Tribology in Industry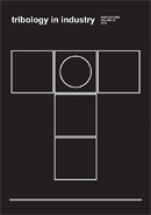 Article Publishing Frequency
15
CGIJ OAJI
0.601
Abbreviation
—
Country
Serbia
ISSN (print)
0354-8996
ISSN (online)
2217-7965
Editor in Chief
Slobodan Mitrovic
ISI
—
All articles
Date added to OAJI
24 Mar 2014
Scopus
included
All issues
Free access
2014-2018
DOAJ
included
Full text language
English
Journal discipline
Journals
Journal description
Tribology in Industry publishes experimental and theoretical papers on all aspects of the science of friction, wear and lubrication. First issue of journal dates back to 1979. Since 1996. the journal issues are printed in English language with international Editorial Board, and every issue of the Journal is available in electronic form, from 2004. Tribology in Industry is the official journal of the Serbian Tribology Society.
Journal is indexed by
SCImago, Index Copernicus, EBSCO, CiteFactor...