Register Journal
Visitors Counter

Today
990

Yesterday
1176

This week
990

Last week
9624

This month
34968

Last month
49411

All days
5519358
Bulletin of the Mineral research and exploration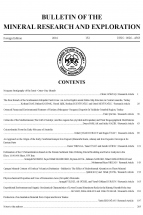 Article Publishing Frequency
15
CGIJ OAJI
0.751
Abbreviation
Bull.Min.Res.Exp.
Country
Turkey
ISSN (print)
0026-4563
ISSN (online)
-
Editor in Chief
Taner Ünlü
ISI
included
All articles
Date added to OAJI
22 Feb 2018
Scopus
included
All issues
Free access
2017-2018
DOAJ
included
Full text language
English
Journal discipline
Journals
Earth and Related environmental Sciences
Journal description
Bulletin of The Mineral Research and Exploration is a peer-reviewed scientific journal of earth sciences which has been published since 1935. Bulletin of the Mineral Research and Exploration publishes original scientific research and review papers, discussion/reply and short notes about all aspects of the geosciences. It is published in both Turkish and English languages twice a year. Publication in this bulletin is free of charge (there are no submissions charges, article processing charges, and publications fees). All new submissions to the Bulletin of the Mineral Research and Exploration are checked for plagiarism by iThenticate software to verify the originality of the papers before publication. Papers that contains any form of plagiarism or self-plagiarism will be rejected. Bull. Min. Res. Exp. is scholarly open access, peer-reviewed journal that is freely available online to access and download. Non-commercial use and distribution in any medium are permitted, by ensuring that the author and the journal are properly accredited.
Journal is indexed by
Georef, Geological Abstracts, Mineralogic abstracts, Turkish edition is indexed and abstracted in ULAKBIM database.