Register Journal
Visitors Counter

Today
855

Yesterday
1889

This week
2744

Last week
12729

This month
60159

Last month
58630

All days
5146612
Brazilian Political Science Review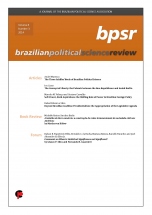 Article Publishing Frequency
6
CGIJ OAJI
0.351
Abbreviation
BPSR
Country
Brazil
ISSN (print)
-
ISSN (online)
1981-3821
Editor in Chief
Adrian Gurza Lavalle
ISI
—
All articles
Date added to OAJI
20 Mar 2014
Scopus
—
All issues
Free access
2007-2021
DOAJ
included
Full text language
English
Journal discipline
Journals
Journal description
The Brazilian Political Science Review is published by the Brazilian Political Science Association and is the only political science and international relations journal published in English in Brazil. The main goal of the BPSR is to support the diffusion of high-quality political science work produced both in Brazil and abroad, thus contributing to the exchange of ideas within the international political science community.
Journal is indexed by
Scielo, International Political Science Abstracts, Latindex, Sumário de Revistas Brasileiras, ProQuest.