Register Journal
Visitors Counter

Today
871

Yesterday
1940

This week
7858

Last week
10492

This month
2811

Last month
45282

All days
5030634
Salud Uninorte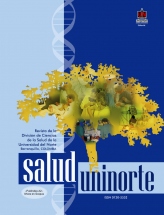 Article Publishing Frequency
0
CGIJ OAJI
0.400
Abbreviation
Salud Uninorte
Country
Colombia
ISSN (print)
0120-5552
ISSN (online)
2011-7531
Editor in Chief
Carlo Vinicio Caballero Uribe
ISI
—
All articles
0
Date added to OAJI
18 Jan 2018
Scopus
included
All issues
0
Free access
—
DOAJ
included
Full text language
spanish
Journal discipline
Journals
Journal description
SALUD UNINORTE is the official Journal of the Health Sciences Division at the Universidad del Norte in which original articles are published on topics of clinical medicine, public health and biomedical sciences. Each manuscript is peer reviewed and publishes original research articles, reviews and clinical case descriptions from scientists, physicians and medical students from the Universidad del Norte and other universities, hospitals and institutes. SALUD UNINORTE was founded in March 1984. Is published twice annually. Adheres to principles of Open Access.
Journal is indexed by
Latindex, Lilacs, Periodica, Gale Cengage Learning, WAME, IMBIOMED, MedicLatina, Wolrdcat Index Coperninus, Ulrich's Periodicals Directory​​.