Register Journal
Visitors Counter

Today
1922

Yesterday
1415

This week
3337

Last week
9624

This month
37315

Last month
49411

All days
5521705
MaPan: Jurnal Matematika dan Pembelajaran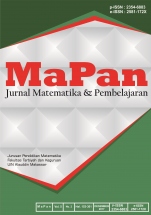 Article Publishing Frequency
1
CGIJ OAJI
0.150
Abbreviation
—
Country
Indonesia
ISSN (print)
2354-6883
ISSN (online)
2581-172X
Editor in Chief
Muhammad Rusydi Rasyid
ISI
—
All articles
Date added to OAJI
26 Dec 2017
Scopus
—
All issues
Free access
2013-2014
DOAJ
included
Full text language
English
Journal discipline
Journals
Mathematics and Information Sciences
Journal description
MaPan : Jurnal Matematika dan Pembelajaran p-ISSN 2354-6883, e-ISSN 2581-172X is peer-reviewed journal published biannually by Department of Mathematics Education Faculty of Tarbiyah and Teacher Training In collaboration with Alumni Association of Mathematics Education Universitas Islam Negeri Alauddin Makassar. We publish research issues on mathematics education, mathematics and learning. This Journal are biannual publication, on June and December. This journal is an open access journal which means that all content is freely available without charge to the user or his / her institution. Editors invite all relevant academics, researchers, practitioners or other parties to contribute in publishing scientific articles which have never been published before. For further information you can email us at:
Journal is indexed by
Google Scholar, ISJD, BASE, Crossref, IPI, Moraref, EBSCO Information Services, PKP Index, etc.