Register Journal
Visitors Counter

Today
1270

Yesterday
1464

This week
4036

Last week
9297

This month
22562

Last month
32763

All days
4885347
Journal of Higher Education and Science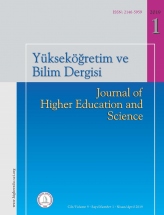 Article Publishing Frequency
14
CGIJ OAJI
0.351
Abbreviation
—
Country
Turkey
ISSN (print)
2146-5959
ISSN (online)
2146-5967
Editor in Chief
Sukru Oguz Ozdamar M.D.
ISI
—
All articles
Date added to OAJI
11 Mar 2014
Scopus
—
All issues
Free access
2011-2020
DOAJ
included
Full text language
Turkish, English
Journal discipline
Journals
Multidisciplinary Sciences
Journal description
The Journal of Higher Education and Science is the official journal of Bülent Ecevit University. Journal of Higher Education and Science is directed mainly to specialties dealing with higher education, including universities, institutes of technology, research centers and vocational institutions. The aims of the Journal are to publish articles covering current issues and solutions in Higher Education sectors in Turkey, and World; innovations in education and teaching strategies as well as novel trends and developments in science and technology; to contribute in social and scientific communication; and to be a international and reputable scientific media in our geographic area (including Balkans and Black Sea countries, Middle East countries and Central Asian Turkish Republics). Journal of Higher Education and Science publishes "Original Articles", "Overview Articles", "Letters to the Editor", "Introductory Articles of Higher Education Institutes", "Meetings and Conference Reports", and "Book Reviews". By decision of Editorial Board Special Issues may also be published. All contributions are evaluated in a double blinded peer-reviewed fashion by an advisory committee. All articles may be written in Turkish or English, and should include English and Turkish abstracts and key words. For English articles submitted from abroad, editorial committee may translate the abstracts into Turkish. Journal of Higher Education and Science is indexed by DOAJ, Index Copernicus, EBSCO, NewJour, Google Scholar, and Akademia Social Sciences Index (ASOS index). Journal of Higher Education and Science is published three issues per year in April, August, and December. The journal is open access and available on-line. The Journal is printed on acid-free paper.
Journal is indexed by
J-Gate,TÜBİTAK-ULAKBİM,Citefactor,DOAJ, Index Copernicus, EBSCO, NewJour, Google Scholar, ASOS index