Register Journal
Visitors Counter

Today
633

Yesterday
1634

This week
6482

Last week
20053

This month
30836

Last month
49411

All days
5515226
Revista de História Bilros. História(s), Sociedade(s) e Cultura(s).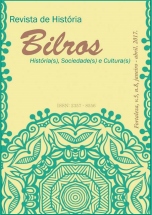 Article Publishing Frequency
0
CGIJ OAJI
0.000
Abbreviation
—
Country
Brazil
ISSN (print)
-
ISSN (online)
2357-8556
Editor in Chief
Francisco José Gomes Damasceno
ISI
—
All articles
0
Date added to OAJI
26 Aug 2017
Scopus
—
All issues
0
Free access
—
DOAJ
—
Full text language
Português
Journal discipline
Journals
Historical Sciences and archaeology. Art History.
Journal description
A Revista Bilros: História(s), Sociedade(s) e Cultura(s) é a Revista Eletrônica dos discentes da Graduação e do Mestrado de História da Universidade Estadual do Ceará – UECE, Campus do Itaperi – Fortaleza-CE. Trata-se de um periódico científico quadrimestral que tem como objetivo contribuir e divulgar a produção historiográfica e de áreas afins realizadas por historiadores, pesquisadores, professores, especialistas, mestres, doutores, pós-graduandos e graduandos.
Journal is indexed by
Latindex, Diadorim, ERIHPLUS, Sumários.org, Periódicos UECE