Register Journal
Visitors Counter

Today
524

Yesterday
2117

This week
6460

Last week
12729

This month
2641

Last month
61234

All days
5150328
Revista Discapacidad, Clínica y Neurociencias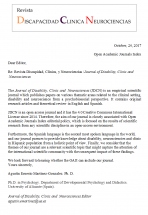 Article Publishing Frequency
0
CGIJ OAJI
0.000
Abbreviation
RDCN
Country
Spain
ISSN (print)
-
ISSN (online)
2341-2526
Editor in Chief
AGUSTIN E. MARTINEZ
ISI
—
All articles
0
Date added to OAJI
24 Jun 2017
Scopus
—
All issues
0
Free access
—
DOAJ
—
Full text language
SPANISH
Journal discipline
Journals
Multidisciplinary Sciences
Journal description
The Journal of Disability, Clinic and Neurosciences is an empirical scientific journal which publishes papers on various thematic areas related to the clinical setting, disability and neuroscience from a psychobiosocial perspective. It contains original research articles and theoretical review in English and Spanish.
Journal is indexed by
LATINDEX, DIALNET, MIA, DULCINEA, GOOGLE SCHOLAR.