Register Journal
Visitors Counter

Today
362

Yesterday
1320

This week
8810

Last week
20053

This month
33164

Last month
49411

All days
5517554
International Journal of Applied Sciences and Biotechnology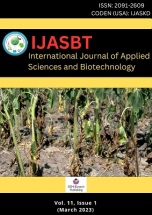 Article Publishing Frequency
16
CGIJ OAJI
0.500
Abbreviation
IJASBT
Country
Nepal
ISSN (print)
-
ISSN (online)
2091-2609
Editor in Chief
Dr. Umesh P. Shrivastava
ISI
—
All articles
Date added to OAJI
17 Feb 2014
Scopus
—
All issues
Free access
2013-2023
DOAJ
included
Full text language
English
Journal discipline
Journals
Multidisciplinary Sciences
Journal description
The "International Journal of Applied Sciences and Biotechnology" (IJASBT) is an international online journal in english language committed to publish quarterly without any unnecessary delay. To publish peer reviewed research and review articles describing recent advances and applied aspects of various sciences and biotechnology is the only aim of IJASBT.
Journal is indexed by
CAS, HINARI, DRJI, Index Copernicus, Google Scholar etc.