Register Journal
Visitors Counter

Today
1722

Yesterday
1864

This week
3586

Last week
11178

This month
59205

Last month
49943

All days
5358523
KIDNEYS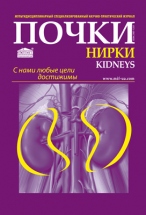 Article Publishing Frequency
9
CGIJ OAJI
0.101
Abbreviation
—
Country
Ukraine
ISSN (print)
2307-1257
ISSN (online)
2307-1265
Editor in Chief
Dmytro D. Ivanov
ISI
—
All articles
Date added to OAJI
20 Feb 2017
Scopus
—
All issues
Free access
2016-2017
DOAJ
—
Full text language
Ukrainian, English, Russian
Journal discipline
Journals
Journal description
Journal "Kidneys" is a professional scientific and practical specialized peer reviewed publication for the doctors who treat patients with kidney disease and their complications, highlighting the advances in modern nephrology and urology. The journal is included in the list of scientific professional publications of Ukraine, which can publish the results of dissertations - the competitors of the scientific degrees of the doctor and the candidate of sciences. The journal publishes the original articles, the reviews, the discussions for the practitioners and the researchers whose work is related to the nephrology and urology. The articles reflect the best practices and the results of research related to kidney diseases, urinary system and their treatment.
Journal is indexed by
Index Copernicus International, Ulrichsweb Global Serials Directory, WorldCat, International Committee of Medical Journal Editors (ICMJE), CrossRef.