Register Journal
Visitors Counter

Today
870

Yesterday
1792

This week
2662

Last week
11076

This month
8193

Last month
61164

All days
5368675
BioLaw Journal - Rivista di BioDiritto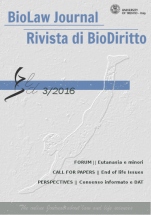 Article Publishing Frequency
0
CGIJ OAJI
0.000
Abbreviation
—
Country
Italy
ISSN (print)
-
ISSN (online)
2284-4503
Editor in Chief
Carlo Casonato
ISI
—
All articles
0
Date added to OAJI
05 Jan 2017
Scopus
—
All issues
Free access
1
DOAJ
—
Full text language
Italian, English, French, Spanish
Journal discipline
Journals
Journal description
BioLaw Journal – Rivista di BioDiritto is a quarterly, peer reviewed, online law journal focusing on the relationships between law and life sciences under a comparative perspective. According to its interdisciplinary nature, the Journal hosts contributions in the fields of law, life sciences and bioethics. The Journal presents articles, commentaries and book reviews which provide an innovative and original source of reference for academics, lawyers, legal and medical practitioners, law students, and anyone interested in national, European and international biolaw.
Journal is indexed by
DoGi-Dottrina Giuridica, Essper, Catalogo italiano dei periodici (ACNP), Google Scholar, Directory of Open Access Scholarly Resources (ROAD).