Register Journal
Visitors Counter

Today
1561

Yesterday
1703

This week
1561

Last week
12729

This month
58976

Last month
58630

All days
5145429
SOVREMENNAYA PEDIATRIYA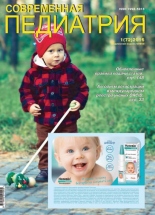 Article Publishing Frequency
0
CGIJ OAJI
0.150
Abbreviation
SP
Country
Ukraine
ISSN (print)
1992-5913
ISSN (online)
2412-4508
Editor in Chief
Vyacheslav Berezhnoi
ISI
—
All articles
0
Date added to OAJI
08 Jul 2016
Scopus
—
All issues
0
Free access
—
DOAJ
included
Full text language
ukrainian, russian, english
Journal discipline
Journals
Journal description
SOVREMENNAYA PEDIATRIYA is a leading peer-reviewed and open access journal in Ukraine that advances pediatric research and serves as a practical guide for pediatricians and other medical professions who manage health and diagnose, and treat disorders in infants, children, and adolescents. It has been continuously published by the National Medical Academy of Postgraduate Education and the State Institution "Ukrainian Institute for Strategic Studies" of Ministry of Health of Ukraine since 2003. The journal publishes original research, clinical observations, and special feature articles in the field of pediatrics, as broadly defined, medical review, workshop/conference/symposium/congress summaries, expert commentary, novel insights into clinical and academic pediatric medicine related to every aspect of child health. The content of the journal also includes related fields such as nutrition, pediatric surgery, public health, child health services, basic sciences, psychology, psychiatry, education, sociology, and nursing. Printed copies of the journal are distributed to over scientific institutions and libraries in Ukraine. All articles are also available in PDF format on the journal website (http://med-expert.com.ua/publishing-activity/sovremennaya-pediatriya/?lang_ui=en) and the Vernadsky National Library, and are made freely available immediately upon publication. SOVREMENNAYA PEDIATRIYA is published in Ukrainian, Russian and English 10 times a year. Through rigorous process of evaluation and peer review, SOVREMENNAYA PEDIATRIYA endeavors to publish pediatric research of the highest value for a diverse audience of pediatric healthcare professionals: academic general and subspecialty physicians and clinicians, researchers, practicing and general pediatricians. The journal in its activity and publishing process seeks to improve the quality of care and the health of infants, children, and adolescents. The Editorial Board of PERINATOLOGIYA I PEDIATRIYA and the Publisher adhere to the principles of the International Council of Medical Journal Editors (ICMJE), the World Association of Medical Editors (WAME), the Committee on Publication Ethics (COPE).
Journal is indexed by
Bibliometrics of Ukrainian Science (the Vernadsky National Library); DOAJ; Index Copernicus International (ICI); SCIENCE INDEX (eLIBRARY.RU); Crossref; Google Scholar; WorldCat; SIS; INFOBASE; ReaserchBib; BASE; IIJIF; ICMJE.