Register Journal
Visitors Counter

Today
1429

Yesterday
1841

This week
5131

Last week
25587

This month
51794

Last month
46293

All days
5245774
Vestnik Vitebskogo Gosudarstvennogo Meditsinskogo Universiteta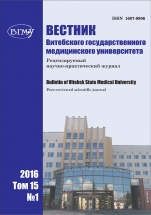 Article Publishing Frequency
14
CGIJ OAJI
0.101
Abbreviation
Vestnik VGMU
Country
Belarus
ISSN (print)
1607-9906
ISSN (online)
2312-4156
Editor in Chief
Shchastny Anatoly Tadeushevich
ISI
—
All articles
Date added to OAJI
23 May 2016
Scopus
—
All issues
Free access
2016
DOAJ
—
Full text language
Russian
Journal discipline
Journals
Journal description
The purpose of the "Vestnik VGMU" is to introduce the audience the original works that are relevant to medicine, human life and improvement of teaching at medical higher education establishments of scientists of Vitebsk State Medical University, Belarus, CIS and other countries. Articles by foreign authors in English can be also printed in the journal. The journal is included in the list of scientific publications of the Republic of Belarus on the medical, pharmaceutical and biological fields of study. Scientific articles of the final year postgraduate students (including articles prepared by them in co authorship) as well as articles of the journal subscribers are published out of turn upon the condition of the full compliance with the requirements.
Journal is indexed by
Russian Science Citation Index, Ulrich's Periodicals Directory™.