Register Journal
Visitors Counter

Today
589

Yesterday
1307

This week
10340

Last week
11178

This month
4795

Last month
61164

All days
5365277
Estudios Gerenciales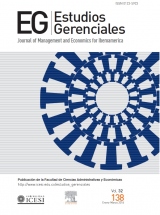 Article Publishing Frequency
0
CGIJ OAJI
0.000
Abbreviation
Estger
Country
Colombia
ISSN (print)
2411-4111
ISSN (online)
-
Editor in Chief
Héctor Ochoa
ISI
—
All articles
0
Date added to OAJI
05 May 2016
Scopus
—
All issues
0
Free access
—
DOAJ
—
Full text language
Spanish
Journal discipline
Journals
Journal description
Estudios Gerenciales is the Ibero-American journal of management and economics focused primarily on the thematic areas of organizations, organizational management, entrepreneurship, innovation, marketing, accountancy, finance, public administration, econometrics, economic development, industrial organization, international trade, economic policy and regional economy. Its main objective is the dissemination of research related to the above topic areas that generate tools for the study of Ibero-American community and its current economic and administrative context. Estudios Gerenciales, through the publication of relevant highquality previously unpublished articles subject to a doubleblind peer review process, is generally aimed at researchers, students, academics, professionals interested in the most recent research and analyses in economics and management in Ibero-America. Articles can be submitted in Spanish, English or Portuguese.
Journal is indexed by
ScienceDirect, SciELO citation index, Publindex, Redalyc, DOAJ.