Register Journal
Visitors Counter

Today
229

Yesterday
1147

This week
10028

Last week
9129

This month
14895

Last month
40835

All days
5617428
Journal of Air Pollution and Health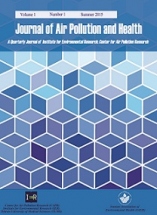 Article Publishing Frequency
8
CGIJ OAJI
0.101
ISSN (print)
-
ISSN (online)
2476-3071
Editor in Chief
Ramin Nabizadeh Nodehi, Ph.D.
ISI
—
All articles
Date added to OAJI
03 Apr 2016
Scopus
—
All issues
Free access
2016
DOAJ
—
Full text language
English
Journal discipline
Journals
Journal description
Journal of Air Pollution and Health is a research journal for scientists and researchers in different disciplines interested in air pollution and its impacts published by Center for Air Pollution Research (CAPR), Institute for Environmental Research (IER) in collaboration of Tehran University of Medical Sciences (TUMS) and Iranian Association of Environmental Health (IAEH). The journal publishes papers on the health consequences of air pollution, innovative control systems, modern technologies, climate change, laboratory methods for measurements of air pollutants, and environmental management and policy. We publish original research, review articles, case reports, software developments and news, and letters to the editor. Papers should be original and results based on present scientific methods involving observations, modeling, and analysis.
Journal is indexed by
InfoBase Index, Magiran, Research Bible.