Register Journal
Visitors Counter

Today
673

Yesterday
937

This week
1610

Last week
10598

This month
2462

Last month
43724

All days
5530576
Albanian Journal of Medical and Health Sciences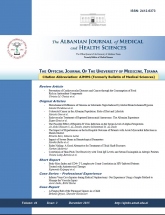 Article Publishing Frequency
0
CGIJ OAJI
0.000
Abbreviation
AJMHS
Country
Albania
ISSN (print)
2412-6373
ISSN (online)
2413-3892
Editor in Chief
Prof. Dr. Genc Sulcebe
ISI
—
All articles
0
Date added to OAJI
21 Mar 2016
Scopus
—
All issues
0
Free access
—
DOAJ
—
Full text language
English
Journal discipline
Journals
Journal description
The Albanian Journal of Medical and Health Sciences (AJMHS) is an International official journal of the University of Medicine, Tirana, (Universiteti i Mjekësisë, Tiranë - UMT) in the Republic of Albania. AJMHS is a peer-reviewed open-access scientific journal, published three times a year. It publishes articles from a variety of methodologies and approaches of high scientific standard in the full spectrum of medical and health sciences. The journal, whose history goes back to 1961, has been previously published as "Buletini i Shkencave Mjekësore i Fakultetit të Mjekësisë, Universiteti i Tiranës" (Bulletin of Medical Sciences-Faculty of Medicine, University of Tirana) and the articles were in both Albanian and English languages. In 2012, the journal, for the first time, was only published in English Language as "Bulletin of Medical Sciences". In 2014, the journal was promoted as university journal and become the official journal of the University of Medicine, Tirana, changing its previous title to "Albanian Journal of Medical and Health Sciences". AJMHS is established to encourage scholarly publications by national and international authors and applies a rigorous peer-review system. It offers original manuscripts that provide theoretically informed empirical analyses of issues in clinical and experimental research, as well as original theoretical or conceptual analyses, in all fields of medicine, interesting case reports and clinical images, invited reviews, editorials, letters, comments and letters to the Editor including reports on publication and research ethics. The primary aim of the journal is to publish original articles with high scientific and ethical quality and serve as a good example of medical publications in the Balkans as well as in the World.
Journal is indexed by
Universal Impact Factor, Global Impact Factor (GIF), Scientific Indexing Services (SIS), CiteFactor, AcademicKeys, ROAD (Directory of Open Access Scholarly Resources).