Register Journal
Visitors Counter

Today
183

Yesterday
908

This week
2028

Last week
10598

This month
2880

Last month
43724

All days
5530994
International Education and Research Journal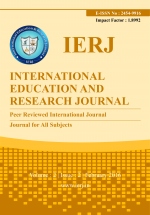 Article Publishing Frequency
0
CGIJ OAJI
0.000
Abbreviation
—
Country
India
ISSN (print)
XXXX-XXXX
ISSN (online)
2454-9916
Editor in Chief
Dr. R. Joshi
ISI
—
All articles
0
Date added to OAJI
09 Mar 2016
Scopus
—
All issues
0
Free access
—
DOAJ
—
Full text language
English
Journal discipline
Journals
Multidisciplinary Sciences
Journal description
International Education and Research Journal (IERJ) accepts research works from scholars, academicians, professors, doctorates, lecturers, and corporate in their respective expertise of studies. It is an online, open access, double reviewed, Multidisciplinary refereed research journal which is published every 15th day of month . It is a platform for students , researchers, academicians to share knowledge in the form of high quality research work in all subjects viz, Accounting, Advertising, Agriculture, Applied Physics, Applied Science, Architecture, Arts, Astronomy, Biology, Bio-Medical, Biotechnology, Botany, Business Management, Criminology, Chemistry, Commerce, Communication Studies, Computer Science, Corporate Governance, Earth Science, E-commerce, Economics, Education,Engineering, Environmental Science, Finance, Food Science, Fisheries, Fuels Science, Geography, Health Science, Human science, History, Human Resources Management,Humanities, Information Technology, International Business, Journalism, Law, Language, Library Science, Life Science, Literature, Logistics, Management, Microbiology, Marine Science, Marketing, Mathematics, Media Studies, Medical Science, Music, Nanotechnology, Nursing, Pharmaceutical Science, Philosophy, Physical Education, Physics, Political Science, Psychology, Science, Social Science, Sports Science, Sociology, Space Science, Statistics, Urban Studies, Veterinary Science, Zoology, etc. IERJ has a wide network of very good academicians and researchers . Its review process is very strict and the papers not fulfilling the criteria are outright rejected. Referees are constantly working hard to maintain the standards of Journal. Globally a large number of journals are present but we are keeping our promise to strictly adhere to the norms framed and so are vigilant in this process.
Journal is indexed by
Google Scholar, Cite Factor, Academic Keys, Internet Archive, ASI, ISI, I2OR, ISSUU, CiteULike, ResearchBib, ICI, ISRA, MIAR, ULRICH'S Periodicals Directory, Academia.edu, iSEEK, SciSeek, WikiCFP, YUDUfree, Open Access Journals, Indian Science.in, Cosmos Foundation, DRJI.