Register Journal
Visitors Counter

Today
1330

Yesterday
1841

This week
5032

Last week
25587

This month
51695

Last month
46293

All days
5245675
International Journal of Chemical and Pharmaceutical Analysis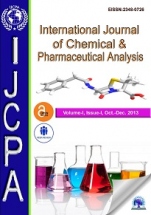 Article Publishing Frequency
0
CGIJ OAJI
0.000
Abbreviation
IJCPA
Country
India
ISSN (print)
2395-2466
ISSN (online)
2348-0726
Editor in Chief
Mrs. Anjali Pawar
ISI
—
All articles
0
Date added to OAJI
04 Mar 2016
Scopus
—
All issues
0
Free access
—
DOAJ
—
Full text language
English
Journal discipline
Journals
Journal description
International Journal of Chemical and Pharmaceutical Analysis (IJCPA) is a peer reviewed online OPEN ACCESS journal published by Aarya Publishing House. IJCPA is intended primarily to promote rapid publication in the fields of Chemical, Pharmaceutical, Biomedical & Clinical analysis. The Journal publishes original research work either as a Full Research Paper or as a Short Communication. Review Articles on a current topic in the said fields are also considered for publication by the Journal. Scope of IJCPA This Journal publishes original research work that contributes significantly to further the scientific knowledge in area of Chemistry, Pharmaceutics, Novel Drug Delivery, Biopharmaceutics, Pharmacokinetics, Nanotechnology, Pharmacognosy, Phytochemistry, Natural Product Research, Pharmaceutical/Medicinal Chemistry, Computational Chemistry and Molecular Drug Design, Pharmacology and Toxicology, Pharmaceutical Analysis, Quality Control, Quality Assurance, Drug Regulatory Affair, Pharmacy Practice, Clinical and Hospital Pharmacy, Pharmacogenomics, Bioinformatics, Pharmaceutical Biotechnology & Microbiology.
Journal is indexed by
Chemical Abstract Services (CAS), USA. Index Copernicus. EBSCO, USA. Journal Seeker.