Register Journal
Visitors Counter

Today
757

Yesterday
855

This week
5193

Last week
2351

This month
25809

Last month
47188

All days
4825545
Revista de Administração de Empresas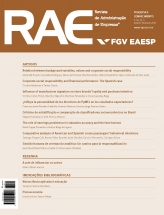 Article Publishing Frequency
0
CGIJ OAJI
0.650
Abbreviation
RAE
Country
Brazil
ISSN (print)
0034-7590
ISSN (online)
2178-938X
Editor in Chief
Maria José Tonelli
ISI
included
All articles
0
Date added to OAJI
01 Mar 2016
Scopus
included
All issues
0
Free access
—
DOAJ
included
Full text language
Portuguese, English and Spanish
Journal discipline
Journals
Journal description
With more than a half century of history, RAE-Revista de Administração de Empresas is proud to be the journal of Business Administration of reference on a national level: the most traditional and the only one with uninterrupted circulation in the country, ever since its launch. RAE is also the only journal in the field of Administration among the top 20 Brazilian in the ranking of JCR Brazilian journals. RAE is a peer reviewed journal that does not charge APC's or submission charges. All content of RAE is available online, open access.
Journal is indexed by
Thomson Reuters: SSCI, JCR; SciELO - Scientific Electronic Library Online, Scopus | Elsevier, Redalyc, Ebsco, ProQuest Information and Learning, Gale Cengage Learning, DOAJ, Urllichs among others.