Register Journal
Visitors Counter

Today
594

Yesterday
1307

This week
10345

Last week
11178

This month
4800

Last month
61164

All days
5365282
Góndola Enseñanza y Aprendizaje de las Ciencias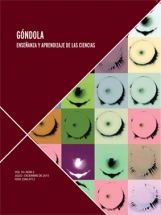 Article Publishing Frequency
0
CGIJ OAJI
0.150
Abbreviation
Góndola, Ens.Apr.Cien.
Country
Colombia
ISSN (print)
-
ISSN (online)
2346-4712
Editor in Chief
Olga Lucía Castiblanco Abril
ISI
—
All articles
0
Date added to OAJI
21 Feb 2016
Scopus
—
All issues
0
Free access
—
DOAJ
included
Full text language
Español, Portugués
Journal discipline
Journals
Journal description
The virtual journal "Góndola, Enseñanza y Aprendizaje de las Ciencias", (Góndola, Ens.Apr.Cien.) ISSN 2346-4712, publishes original papers as a product of; research results, documented reflections, and chronicle of experiences. This material must be related to the field on education and research about teaching and learning of natural sciences and mathematics.
Journal is indexed by
CLASE; CAPES Web Qualis (B1); E-revistas; REDIB; IRESIE; Actualidad Iberoamericana; SHERPA Romeo; GOOGLE Scholar; Scientific Journals, WorldCat.