Register Journal
Visitors Counter

Today
1608

Yesterday
1864

This week
3472

Last week
11178

This month
59091

Last month
49943

All days
5358409
European Journal of Economic Studies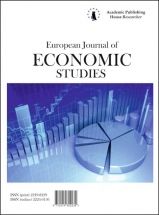 Article Publishing Frequency
7
CGIJ OAJI
0.201
ISSN (print)
-
ISSN (online)
2305-6282
Editor in Chief
Vidishcheva Evgeniya
ISI
—
All articles
Date added to OAJI
28 Aug 2016
Scopus
—
All issues
Free access
2012-2022
DOAJ
—
Full text language
English
Journal discipline
Journals
Journal description
Electronic issue "European Journal of Economic Studies" – is a general economic theoretical and scientific-practical edition. The journal's mission is to publish high quality original studies in economic fields. The journal discusses the current issues of world economy, management, budgetary system and fiscal policy, harmonization of tax relations, tax competition, banking laws, securities market, insurance, accounting, audit and economic analysis. The journal's objective is the extending the spheres of influence of information resources on contemporary developments in the scientific area, lighting of research results by national and foreign scientists, promoting the development of economic science and applied research and teaching. Implementing an open-access policy to scientific publications, the journal contributes to the improvement of scientific information exchange, and, therefore, to the efficiency of scientific activity of its authors.
Journal is indexed by
CrossRef (USA), EBSCOhost Electronic Jornals Service (USA), Electronic scientific library (Russia), Global Impact Factor (Australia), Google scholar (USА), Index Copernicus (Poland), International Scientific Indexing (UAE), Journal Index (USA), ResearchBib (Japan), Sherpa Romeo (Spain), ULRICHSWEB™ GLOBAL SERIALS DIREСTORY (USA), Universal Impact Factor (Australia).