Register Journal
Visitors Counter

Today
1259

Yesterday
1884

This week
8600

Last week
15890

This month
53286

Last month
58630

All days
5139739
International Journal of Scientific Research in Information Systems and Engineeing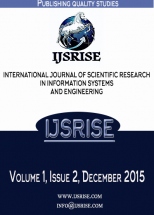 Article Publishing Frequency
15
CGIJ OAJI
0.101
Abbreviation
IJSRISE
Country
Cyprus
ISSN (print)
2380-8128
ISSN (online)
2380-5579
Editor in Chief
Dr. Samson Oluwaseun FADIYA
ISI
—
All articles
Date added to OAJI
27 Jan 2016
Scopus
—
All issues
Free access
2015
DOAJ
—
Full text language
English
Journal discipline
Journals
Journal description
International Journal of Scientific Research in Information Systems and Engineering (IJSRISE) is an open access international Peer-Reviewed multidisciplinary journal that publishes quality studies related to Information Systems, Social Science, Education, Engineering computer science, ICTs, management, multimedia, etc. IJSRISE is multidisciplinary in approach, and includes but not limited to reports of qualitative case studies, meta-analyses, mixed method studies, action researches, quantitative experiments and surveys and methodological issues. IJSRISE publishes original articles in all areas of Information Systems, Social science, Education and Engineering. The editors seek to publish articles from a wide variety of academic disciplines and substantive fields; they are looking for clear and significant contributions to the understanding and/or improvement of educational processes and outcomes.
Journal is indexed by
Google Scholar, Turkish Education Index, Universal Impact Factor, General Impact Factor, InfoBase Index, Scholar Article Impact Factor - SAIF, Research World, Journal Index, CiteFactor, International institute of organized research, AcademicKeys, AcademiaEdu, ResearcBib, Scientific Indexing Services (SIS), Scribed, HotDoc...