Register Journal
Visitors Counter

Today
1214

Yesterday
1605

This week
8364

Last week
11178

This month
2819

Last month
61164

All days
5363301
Journal of Education in Black Sea Region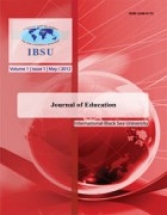 Article Publishing Frequency
2
CGIJ OAJI
0.000
Abbreviation
SJEBSR
Country
Georgia
ISSN (print)
2346-8246
ISSN (online)
2298-0172
Editor in Chief
Prof. Dr. Natela Doghonadze
ISI
—
All articles
Date added to OAJI
27 Dec 2015
Scopus
—
All issues
Free access
2015
DOAJ
—
Full text language
English
Journal discipline
Journals
Journal description
The Journal of Education in Black Sea Region (ISSN 2346-8246) is an international (regional) multidisciplinary single-blind reviewed semi-annual journal concerned with various aspects of secondary and tertiary education: innovations in education theory and practice, curriculum and syllabus design, assessment of knowledge and skills, education psychology and management, teacher development, English and other foreign languages teaching methods, other particular didactics (such as teaching mathematics). Authors of Black Sea and neighboring regions are invited to publish their research in the journal. It publishes editorials, research articles and reviews. The goal of the journal is to encourage a dialogue between educational scholars and practitioners to implement innovations in Education on the covered space.
Journal is indexed by
Scientific Indexing Services, Index of Turkish Education.