Register Journal
Visitors Counter

Today
271

Yesterday
1867

This week
9125

Last week
10492

This month
4078

Last month
45282

All days
5031901
Herald of the NTUU «KPI» Series of «Mining»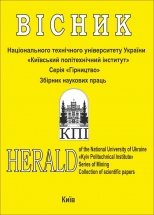 Article Publishing Frequency
0
CGIJ OAJI
0.000
Abbreviation
—
Country
Ukraine
ISSN (print)
2079-5688
ISSN (online)
-
Editor in Chief
Tkachuk K. K., dr. tech. sci., assos. prof.
ISI
—
All articles
0
Date added to OAJI
18 Dec 2015
Scopus
—
All issues
0
Free access
—
DOAJ
—
Full text language
Ukrainian, Russian, English, German, French, Polish, Czech, Slovak
Journal discipline
Journals
Journal description
Collection of scientific researches (UDK 622(082)) Certificate of registration: КВ 13121-2005 on 11.07.07 Resolution of the presidium of HEB 10.03.10 № 1-05/2 about the inclusion of the collection to a new list of academic editions of Ukraine. Thematic scope of the collection: - Physical processes of mining; - Geotechnology; - Mining machinery and equipment; - Electrification and automation of mining operations; - Economics, organization and management, geoecology and labor protection. Content of the collection - information on systemic patterns of disclosure processes and phenomena that occur during the development of mineral deposits to improve the technology and economics of mining with systematization and extensive discussion of the theoretical and practical knowledge in mining. The policy of publication: Politics of publishing includes the system of measures aimed at achieving the main goal. The main purpose of the collection is the publication of the results of research aimed at improving existing and developing new high-performance and energy-saving technologies , processes and equipment that meet the modern requirements of market production , involving scientists, teachers and students of mining professions and experts in mining companies.
Journal is indexed by
BASE, WorldCat, Google Scholar, OpenAIRE