Register Journal
Visitors Counter

Today
1143

Yesterday
1737

This week
23569

Last week
13522

This month
44645

Last month
46293

All days
5238625
EURASIAN JOURNAL OF SOIL SCIENCE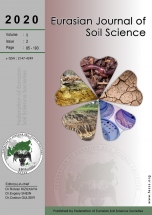 Article Publishing Frequency
10
CGIJ OAJI
0.351
Abbreviation
Eurasian J Soil Sci (EJSS)
Country
Turkey
ISSN (print)
-
ISSN (online)
2147-4249
Editor in Chief
Ridvan Kizilkaya - Evgeny Shein - Coskun Gulser
ISI
—
All articles
Date added to OAJI
09 Nov 2015
Scopus
—
All issues
Free access
2012-2021
DOAJ
included
Full text language
English
Journal discipline
Journals
Journal description
Eurasian Journal of Soil Science (EJSS) is a peer-reviewed international journal published by The Federation of Eurasian Soil Science Societies. It has been published twice a year from 2012 to 2013, it is published quarterly since 2014. The EJSS editorial board consists of the editors-in-chief, editorial board, advisory editorial board, division editors, scientific editors and linguistic editor. EJSS is a forum for presenting articles on basic and applied research of soil science, thus making new findings, methods and techniques easily accessible and applicable in practice. It publishes original papers on research relating to soil physics and mechanics; soil chemistry; soil biology and biochemistry; soil erosion and conservation; soil genesis, classification and mapping; soil mineralogy and micromorphology; soil hydrology; soil fertility; plant nutrition and fertilization; soil pollution and remediation; soil health and quality; soil management and reclamation; geostatistics, remote sensing and GIS. Reviews on popular topics relating to soil science are accepted by the editorial board.
Journal is indexed by
CAB Abstract, ULAKBIM-Dergipark, EBSCO, PROQUEST, CROSSREF, CITEFACTOR, ELECTRONIC JOURNALS LIBRARY etc.