Register Journal
Visitors Counter

Today
405

Yesterday
1320

This week
8853

Last week
20053

This month
33207

Last month
49411

All days
5517597
Journal of Science, Technology and Environment Informatics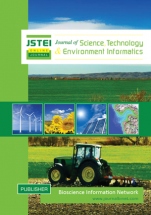 Article Publishing Frequency
0
CGIJ OAJI
0.000
Abbreviation
J. Sci. Technol. Environ. Inform.
Country
Bangladesh
ISSN (print)
-
ISSN (online)
2409-7632
Editor in Chief
Dr. A. M. Shafiqul Alam | Dr. Muhammad M. Hossain
ISI
—
All articles
0
Date added to OAJI
03 Jun 2015
Scopus
—
All issues
0
Free access
—
DOAJ
—
Full text language
English
Journal discipline
Journals
Multidisciplinary Sciences
Journal description
Journal of Science, Technology and Environment Informatics is a peer-reviewed and open access international journal that publishes original articles, review articles, case study, survey reports, short communications and technical reports. This journal provides a scholarly platform of publication for scientific developments and practical implications, research findings, communication of new innovations and emerging research topics of science, biological and geological engineering, technology transfer, scarcity of natural resources, climate change, global warming, environmental degradation, soil, water & air pollution, and associated informatics of related sciences.
Journal is indexed by
Road (issn), CiteFactor, Scientific Journal Impact Factor, Scholar Article Impact Factor, DRJI, ResearchBible, JOUR Informatics, Advance Sciences Index, DAIJ, Electronic Journal Library (Heidelberg), Scribd etc.