Register Journal
Visitors Counter

Today
1144

Yesterday
2013

This week
4572

Last week
9624

This month
38550

Last month
49411

All days
5522940
ECONOMICS: TIME REALITIES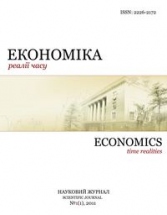 Article Publishing Frequency
31
CGIJ OAJI
0.350
Abbreviation
ETR
Country
Ukraine
ISSN (print)
-
ISSN (online)
2226-2172
Editor in Chief
S. Filyppova, DEcon, Prof.
ISI
—
All articles
Date added to OAJI
21 May 2015
Scopus
—
All issues
Free access
2011-2016
DOAJ
—
Full text language
ukrainian, english, russian
Journal discipline
Journals
Journal description
The «Economics: time realities» edition addresses the problematic field of both national and global economics' progressive trends and contemporary state. The journal reviews and articles scope embraces the issues of original researcher, practical, scientific methodological studies in the field of economics, enterprising, management, marketing and logistics. Important highlighting includes relevant questions of economics and management, information and mathematical techniques involved into economical processes' analysis, innovations and investments topics, economical competitiveness and contemporary regional development problems. The journal is addressed to a wide audience of researchers, scientific and teaching staff, Ph.D. and university senior students.
Journal is indexed by
eLIBRARY (Russian Federation), Google Scholar (USA), EBSCO Publishing (USA), Index Copernicus (Poland), Ulrich's Periodicals Directory (USA)